Sangamo launches new Bluetooth time switches
Sangamo launches new Bluetooth time switches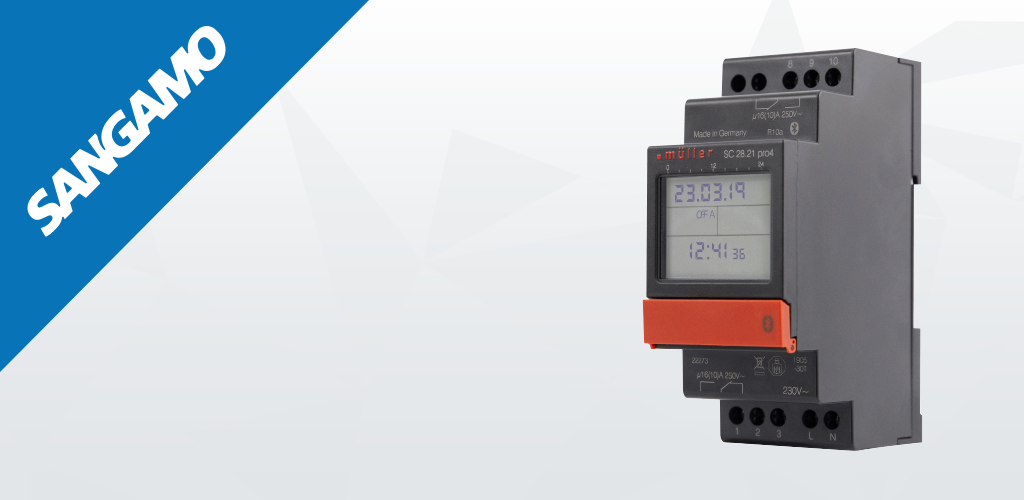 Leading time switches and heating controls manufacturer, Sangamo, has added a new Bluetooth-compatible range of timers to its DIN Rail Time Switch collection.
The new range is designed to offer convenience and versatility to the user and broaden the product category reach to a wider potential market, where it will help manage costs in residential, commercial and industrial applications.  It uses Bluetooth technology to programme the timer and is compatible with Android and IOS, and applications include lighting, security, heating, ventilation, irrigation and horticulture.  The current Sangamo DIN rail time switches use Near Field Communication (NFC) to programme the timer from an Android device.
As well as Bluetooth communication, the new time switches feature zero-crossing technology supporting up to 600W LED load. This technology protects the relay contact and extends service life, therefore helping the lighting controls to match the long lifespan of LED lighting systems.
A free to download App, the Save'n carry App is available for both iOS and Android.  It has an intuitive user interface that allows easy and fast programming via smartphone and tablet.
The new Bluetooth range will consist of four products:
Standard Bluetooth 2 module 1 channel, 7 day timer, 100 operations
Standard Bluetooth 2 module 2 channel, 7 day timer, 100 operations
Astro Bluetooth 2 module 1 channel, 7 day timer, 100 operations
Astro Bluetooth 2 module 2 channel, 7 day timer, 100 operations